Recognizing Riverview Celebrates Community Contributors As Part of 50th Anniversary
(RIVERVIEW, NB) - In celebration of their 50th anniversary, the Town of Riverview held a special Awards Gala on Thursday, April 20. Recognizing Riverview combined all community awards under one roof for the very first time. Please join the Town in congratulating all award recipients on their outstanding achievements and contributions to the community.
Alongside their special recognition, 21 Northern Red Oak Trees were gifted to award recipients. Thank you to the UNESCO-designated Fundy Biosphere Region for donating these trees to honour the award recipients and to celebrate the golden 50th anniversary of the Town of Riverview. Red Oak is part of the Wabanaki Forest, a unique forest type only found in the Maritimes, and it is one of the many climate-resilient species Fundy Biosphere Region is planting to restore biodiversity and improve climate resilience in our forests as part of their Forest of the Future program. These trees contribute to 45,000 trees that will be planted by the Fundy Biosphere Region over three years and count toward the federal government's commitment to plant 2 billion trees by 2031. These trees will grow firm roots and stand strong in various locations throughout Riverview and every fall they will showcase brilliant golden leaves, each one representative of the lasting impact that the award winners have made on the fabric of the community. 
Volunteer Recognition 
For the past 39 years, the Town of Riverview has been recognizing its incredible volunteers by asking the groups and organizations within the Town to select their most deserving volunteer for that year, and put their name forward to receive a recognition certificate for their dedication and commitment to the growth and development of our community and its residents. Congratulations to all who give freely of their time to make Riverview a better place. Happy National Volunteer Week!
Paul McGrath – Knights of Columbus, Riverview  
Scott Elliott – Friends of Mill Creek Nature Park 
Rick Duchesne – Riverview Veterans and Armed Forces Association 
Arlo Fisher – Urban Rural Rides 
Germain Doucet – Fundy Hiking Trails Association 
Lorraine Casey – Riverview Arts Centre 
Trena Arnoldus – The Salvation Army Lakeview Manor 
Francine Nutten – Girl Guides of Canada 
Angela LeBlanc – Riverview East Karate  
Colin Steeves – Riverview Scouting 
Lee MacWilliams – Riverview Minor Hockey Club 
Gerry Williamson – Riverview Pickleball Club 
Kate Hanson – Riverview Public Library 
Angela Godin – The Canadian Federation of Business and Professional Women 
Aiden Hatchard – The Journey Church 
Karen Rogers & Ian Lloyd  – St. Paul's United Church 
Daryle Boyce - The Grass Home 
Carole Killam – Riverview Ringette Association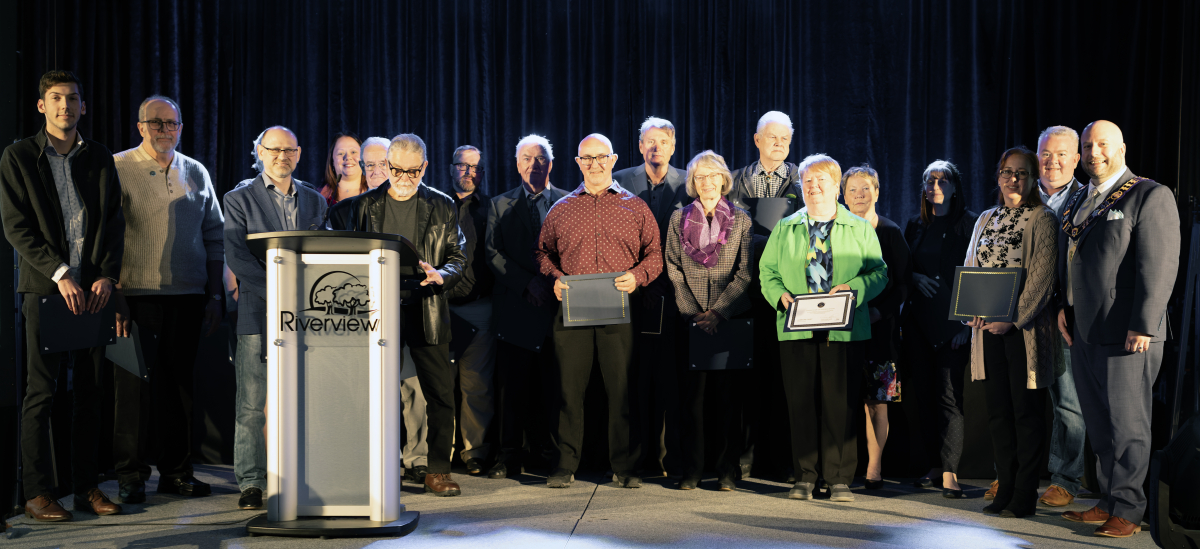 Volunteer of the Year awards were given out in the following categories; 
Schools & churches  - Andrew Colpitts, Riverview High School

Sports & youth organizations - Joel Irvine, Greater Moncton Football Association

Essential services  - Ronald McEachern, Riverview Fire & Rescue

Committees & service clubs - Brennan Beaumont, Riverview Lions Club

Charities & non-profits - Bill Hanson, Albert County Foodbank
Youth Appreciation Awards  
Organizations also nominated Riverview youth in Grade 12 who make a difference in the community. Awards were presented in the following categories at the event;
Sports & Athletics  - Blake Grossman & Emily Stewart 

Arts & Culture - Abigail Poirier & Nathan Valdron

Community Service - Nathan Cooke & Hilary Gallant

Academics - Sophia Candy & Samuel Niu Chen
Jim DeWolfe Community Spirit Award 
The Jim DeWolfe Community Spirit Award celebrates a Riverview resident, group, organization or business for their valued contributions to creating and strengthening our vibrant community. Jim DeWolfe Community Spirit Award winners go above and beyond in devoting their time, energy and care to making Riverview an exceptional community. 
The Town of Riverview is pleased to announce Robert Betts as the 2023 Jim DeWolfe Community Spirit Award recipient. Learn more about Bob's many contributions here.
Riverview Business Awards
This year marks the first time that the Town has had business awards. In the fall of 2022, the community voted for their favourite local businesses across three categories - Food & Beverage, Retail and Service. The winners were announced at last night's event.
Best in Service - Luxe Salon

Best in Retail - The Covered Bridge Quiltery

Best in Food & Beverage - Five Bridges Bar & Grill
2023 Sports Wall of Fame
The final awards of the evening were years, and in some cases decades, in the making. Four incredible individuals were inducted to the Town of Riverview's Sports Wall of Fame. From athletes to coaches to champions of change for Riverview's recreation landscape, the impact of the 2023 inductees is far-reaching. The Sports Wall of Fame can be found proudly displayed inside the Byron Dobson Memorial Arena.
Congratulations to the following contributors to Riverview's sports, athletics, and recreation landscape on their induction into the Sports Wall of Fame.
Raymond Drake 

Stephany Reid

Travis Jayner, Oly

Brian Lane
Congratulations to all award recipients on their commitment to making Riverview a Great Place to Grow. Thank you to all partners, vendors, and team members who made the Recognizing Riverview gala a monumental success. Stay tuned for the nomination openings for the 2024 awards.