Back to Basics – Brew Shoppe Sets Example Through Hard Work and Friendly Service
The Good Guys Brew Shoppe is true to their name – spreading genuine kindness and appreciation for every customer who walks through their doors. The McNamaras moved to Riverview from Cape Breton in 1985. By 1995, Richard McNamara opened The Good Guys Brew Shoppe in a little spot in the Riverview mall.  
And when it comes to Good Guys – it's all in the family. Second-generation brewer/business owner, Liam McNamara has been involved in the company from the start. From bagging sugar and stocking shelves in his younger years, he soaked up knowledge of all things wine, beer, and spirits. Save for a few years spent at school in Vancouver, Liam has been with the company ever since. Fueled by his strong work ethic, and all he has learned from his father, Liam and his team of Barb, Glen and Lori, have stepped up to keep their thirsty friends and neighbours satisfied – for the best possible price.  
We caught up with him to find out what makes Riverview a grape place to brew your next batch of beverages. He says it's close to home for hobbyists. 
"For us, Riverview exemplifies the real estate quote - location, location, location. Even though we started out in a mall, malls are not the best fit for a shop like ours. It is also easy for a smaller store to get lost in the crush of a city's downtown core. Riverview is a wonderful community with many residents who have hobby rooms that regularly host pails of wine and beer bubbling along merrily. Having our shop on this side of the river helps serve our demographic of hobbyists as well as those who eventually move on from home brewing to wanting us to take over the making of their wine. We truly have the best customers around!"  
Matching the best quality wine products on the market with great service, The Good Guys know that it all comes down to customer interaction and retention. Taking care of customers is second nature to their team. 
"Ultimately the difference comes down to personality and integrity," explained Liam. "We strive to welcome and engage with a brand-new customer with the same gusto as we greet our long-term clients. We value everyone's time and sincerely appreciate their business. I think that level of service makes folks keep coming back in. We back up our products and we live up to our word. With friendliness and good ethics, I trust that we'll be able to keep our doors open and our lights on for many years to come." 
As a family-owned business, entrepreneurial spirit has been passed down through generations for Liam. 
"My father is my biggest inspiration. At the end of my life, if I end up being even half the man that he is, then I'll feel that I've succeeded," he explained. "For decades he has busted his butt, working to build this store into the steady and reliable neighbourhood business that we are today. Providing for his family and friends while doing it. I sincerely hope that the satisfaction and pride that he feels can come close to being worth all that he's put in over the years. He's a true entrepreneur and I'm lucky to have him to learn from." 
One thing that makes owning a business in Riverview rewarding is the willingness to help each other out. 
"Community is the network that makes everything possible. Without it we are just individual islands, struggling to survive. All progress stems from collaboration– to not only hold each other up, but to lift those who have faltered. Our future depends on working together for our planet, and beyond." 
Their neighbourly demeanor extends beyond interacting with loyal customers for the team at Good Guys - they are also big fans of many other local businesses that call Riverview home. 
"We've been telling people to visit our friends at The Old Time Meat Market since they were a hidden gem in the back of a building on Pine Glen Road," he explained. "Since then, they have moved into their own fantastic location on Coverdale and are so busy they've already had to expand. I can't say enough about this great family business! They have a lot of variety (not just meat), high quality products, fair prices, and knowledgeable staff. You'll find what you're looking for and then some!" 
This sense of pride is not only reserved for friends and customers, you'll experience McNamara family values from the start. At the Good Guys Brew Shoppe, you'll be welcomed with open arms. For all your brewing needs, stop on in to meet the team at 700 Coverdale Rd, with new customers receiving their first making fee FREE ($50 value)! Visit them online to stay up to date on deals and products - www.goodguysbrewshoppe.com.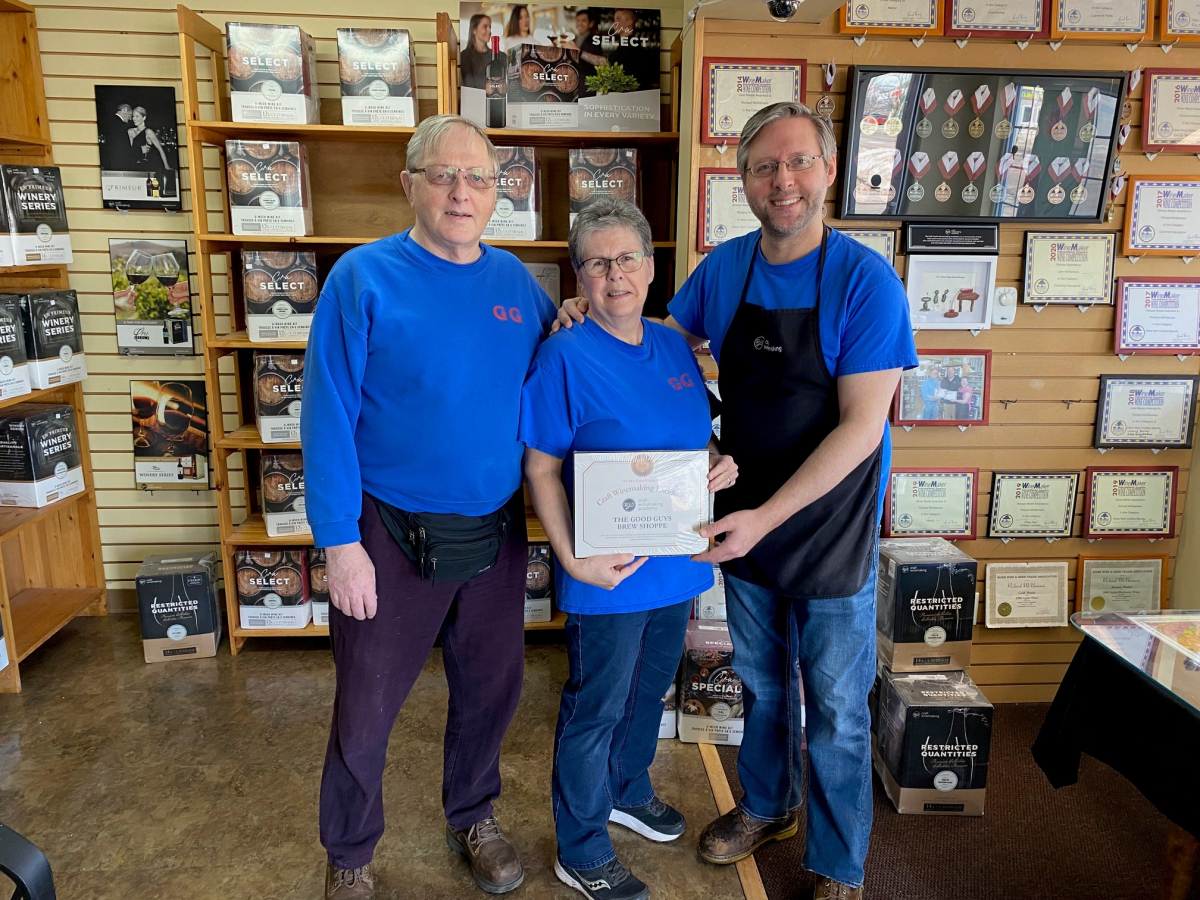 From left to right, Richard, Lynn, and Liam McNamara.