Riverview Fire and Rescue Welcomes Facility Dog
RIVERVIEW (N.B.) – Riverview Fire & Rescue has announced the newest and furriest addition to their team, a five-month-old miniature golden doodle named Tanker.
"The crew has enjoyed getting to know Tanker over the past few weeks," said Chief Robin True. "The number of calls that our firefighter paramedics respond to has increased significantly in 2022. We are committed to supporting the mental health of our team, and the facility dog program is one more way we can to that. Having Tanker around will make things a little better on those hard days and once he's fully trained, he'll be keenly attuned to anyone who is struggling. We look forward to introducing him to the community as part of his ongoing training and as a valued member of our fire prevention team."
Lieutenant Paramedic Dave Murray will be the primary handler of Tanker, with help from the entire crew and other trained supporters of the program.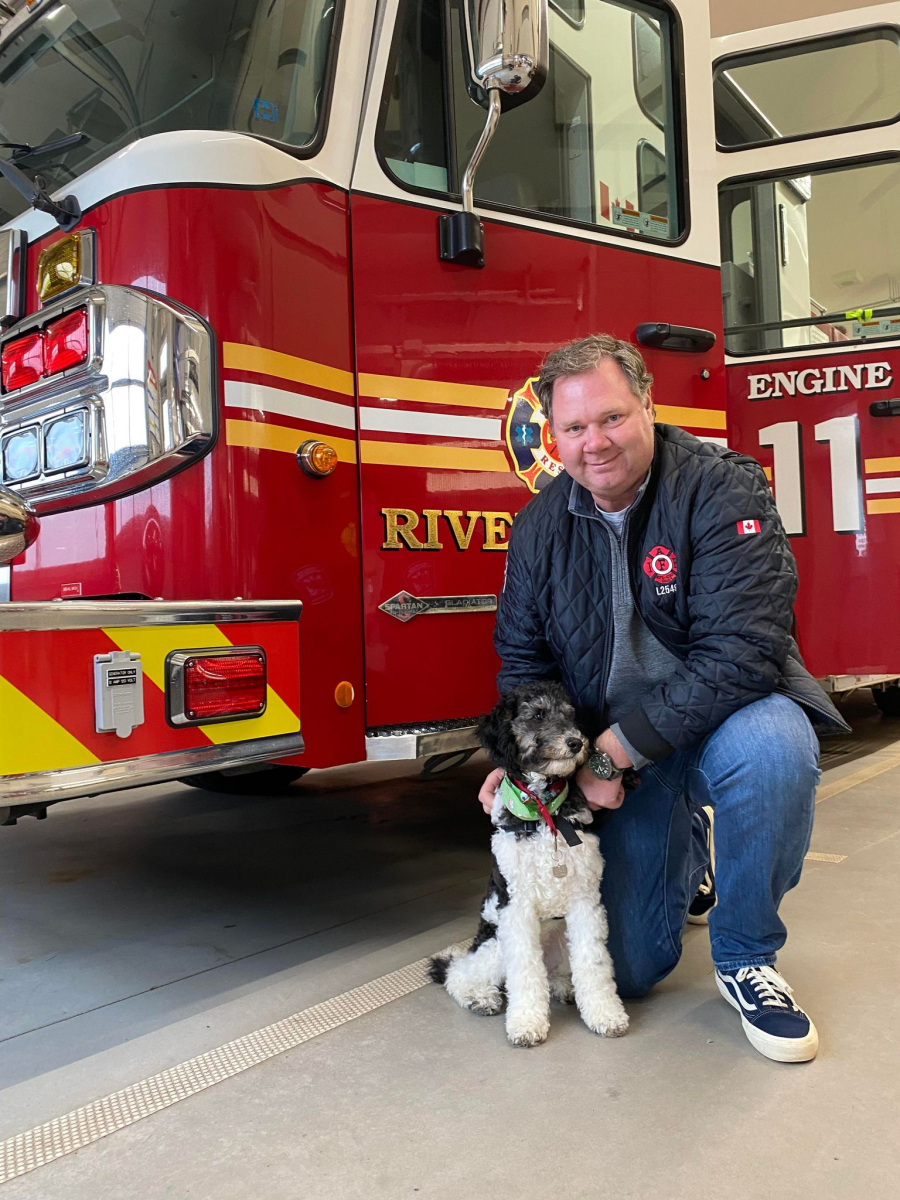 The canine companion is part of the Facility Dog Program provided by Canine Therapy for First Responders Atlantic (CTFFR) whose mission is to "introduce a K9 Therapy Dog program at no cost to aid in the mental health of First Responders". The organization provides a lifetime support model – from procurement, to training, veterinary services, food, and support for handlers throughout their journey with the dog. This program requires no cost from first responders and is generously fully funded by the organization's community sponsors, partnerships, private donations, and funding opportunities across Canada.
"The average first responder experiences 800+ traumatic events over their career," explained CTFFR Atlantic President, Tracey Ryan. "Our first responders do so much to keep our communities safe, the Facility Dog Program is a way that we can give back and help them through some of the challenges that come with their day-to-day jobs. We have seen the program benefit many teams in the region and we're so happy that we can provide additional support to the Riverview community with our (Lil' Pumper) Tanker."
Tanker the facility dog will be a regular at the fire station once he is fully trained, sometime in the new year. He joins the Riverview Fire and Rescue team after the sudden passing of their first four-legged recruit, Murphy, earlier this year.