New Waste Collection Schedule And Bulk Waste Update For Riverview Residents
RIVERVIEW (N.B.) - The Town of Riverview wishes to advise residents that the garbage collection schedule in Riverview is changing from a four-day collection week to a two-day collection week.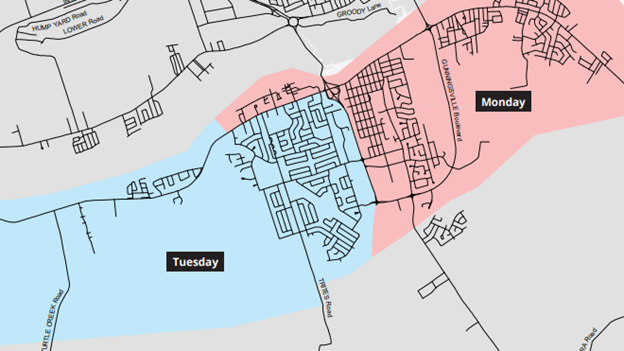 View full map with street list 
The new schedule begins the week of July 3, 2022, with collections now taking place on Mondays and Tuesdays. There are two important changes to the new schedule:
New garbage day: Residents whose garbage would normally be collected on Monday - there is no change, your day is still Monday.
Residents whose garbage would normally be collected on Tuesdays, should now put their garbage out for Monday.
Residents whose garbage would normally be collected on Wednesday and Thursday should put their garbage out for Tuesday.
Bi-weekly bulky item collection: Residents will be able to put out one bulky item every two weeks with their clear garbage going forward. This will replace Fall/Spring bulky waste collection.
One bulky item can be included with 'clear' garbage, beginning July 11.
Residents are reminded that garbage should be separated into the correct coloured bags (blue for recyclables, green for organics, and garbage in a clear bag.) The green bag is collected weekly and the blue and clear bags are picked up on alternating weeks.
Learn more about what goes in which bag using Eco 360s sorting guidelines and online sorting tool at www.eco360.ca
Residents should also note that:
Waste must be at the curb before 6 a.m. on the day of collection, but not before 6 p.m. on the night before collection.
Each bag must weigh less than 18 kg (40 lb).
Black bags are not acceptable for collection 
A full, detailed list of non-collectible items can be found page 9 of the Town's Garbage Collection By-Law.  A mailer was distributed to all households in Riverview with their last water bill. A Frequently Asked Questions document, as well as the latest direct mail piece can be found to the right of this article.
Eco360 Mobile Depot schedule can be found here. The next Riverview date for the mobile depot is August 17-18 at the Operations Centre - 300 Robertson Street. 
Unsure of your garbage day going forward? Check out the complete street list here.