Public Art
Public art is invaluable because it's accessible—open to everyone. For residents, it creates an attachment to their community, adds improved aesthetic value to our public places, and acts as a statement of welcome to visitors. It's why the Town of Riverview is committed to supporting art in public spaces throughout your community.
As Riverview's public art inventory grows, each piece will be featured here. Explore public art throughout the region. 
Festival Inspire Murals
No More Fallen Feathers
Mique Michelle is a Franco-Ontarian graffiti artist from West Nippissing, Ontario. She brought her proficiency as a mixed media artist and an active facilitator of the arts in Ottawa to Riverview with a mural irepresenting local birds, which can be seen on the commercial building at 121 Pine Glen Road. 
Untitled
BirdO is an anonymous street artist currently based in Toronto, although his migratory habits bring this bird all over the world. For 2017's Festival Inspire, he created a large-scale animal hybrid mural inspired by the creatures who make their home in the Petitcodiac River. The mural is found on the west side of the Fundy Chocolate River Station.
Intitulado
Painted in 2016, the multicoloured geometric shapes in Mexican-Spanish collaborators Alegria del Prado's mural creates a dreamworld calling for harmony between nature and the modern world. Intitulado is located on the riverside of Fundy Chocolate River Station.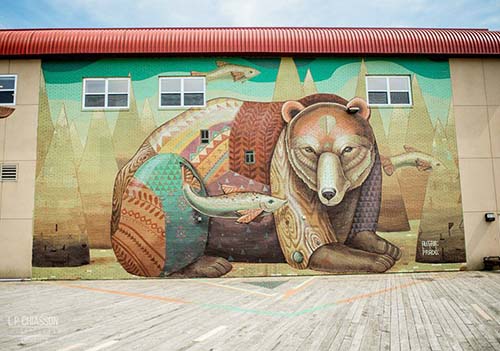 The Third Wave
A sculpture by New Brunswick artist Julie Glaspy has a permanent home in Riverview through a community partnership with Sculpture Saint John. Riverview's sculpture is one of dozens of pieces by world-renowned artists located along the southern part of New Brunswick and forming the International Sculpture Trail through to Maine.
Julie Glaspy was an intern for Sculpture Saint John 2014 and selected as a participating artist in the 2016 symposium. Learn more about Julie's work on the Sculpture Saint John website.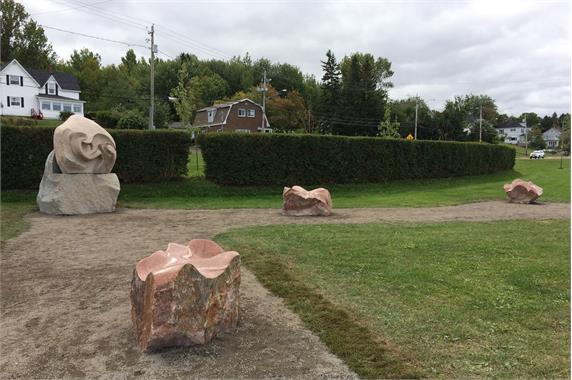 Artist Statement
My approach with the Third Wave, and the art itself, are both interactive.

There are five stones of this piece, representing the five bridges of Gunningsville; three smaller red stones and two larger stones, all granite.

The three red stones set in front of the larger stones are carved into abstract, fun, wavy forms. Interns and I polished them until soft and shiny. The stones encourage touch and playful interactions, luring passersby to interact with art—with sculpture. The trail draws the audience down a wavy river path where the two large stones stand—these represent the tidal bore coming into the river and flowing down the front of the stone.

Knowing the passing sun would work with shadows I pulled the tidal bore out of the stone, making it curly and alive. It connects with the abstract shape of the river figure, allowing many mystical interpretations. I hope this work will inspire new independent thoughts in children and passersby.

When I received the design input from your citizens, I recognized a great sense of community from both young and old. I wanted to create opportunities for personal interaction with sculpture. Sculpture is one of few art forms that allows for the intimacy of touch and artistic observation. This concept design encourages both.

The three smaller red stones grow out of the ground as an extension of the Petitcodiac River. Their soft polish invites touch and play. Use them as benches, take time in the space, and allow your imagination to take shape. Take in both the art and the beautiful surroundings of your wonderful town.

Thank you for choosing local Canadian art. And thank you for helping dreams come alive!