Jim DeWolfe Community Spirit Award
The Jim DeWolfe Community Spirit Award celebrates a Riverview resident, group, organization or business owner for their valued contributions to creating and strengthening our vibrant community.
The award was created in 2013 and named for Jim DeWolfe, a longtime resident whose generous contributions and volunteer efforts in Riverview have stretched over six decades. Jim has a long history of working on the Dobson Trail and volunteering with Canadian Cancer Society, Health Canada, Scouts Canada, Telephone Pioneers of America, the Masonic Order, the Albert Historical Society, and many other organizations. He continues to demonstrate an outstanding personal commitment to improving the lives of others in Riverview.
Once per year a special selection committee reviews and selects the recipient that best fits the award's criteria.
Who is eligible for the award?
Any current or former long-term resident of Riverview is eligible for nomination. Riverview business owners who have made valuable contributions to the community are also eligible for the award regardless of the business owner's place of residence. Elected representatives are not eligible for nominations while they hold office.
Past recipients of this award are not eligible. 
How do I make a nomination?
Complete the nomination form, and submit a detailed letter of support for the nominee. Information should include a comprehensive overview of the nominee's volunteer work or community service in Riverview. Members of the selection committee who will judge the nominations require as much knowledge as possible in order to choose the most deserving recipient. The following criteria will guide the selection committee's decision.
Nature of nominee's voluntary contributions, actions and community service
Enhancement of and impact upon the community
Ongoing leadership and dedication
Include specific projects or committees in which the volunteer was involved
Additional materials such as publications, photographs, media stories, and testimonials to support your nomination are welcome but not required. Documents will not be returned so please ensure you retain original copies.  
Where do I send my nomination package?
Applications can be submitted online or submitted as a printed application. 
Nominators can pick up a print copy at Riverview Town Hall on weekdays between 8:30 a.m. and 4:30 p.m.
Printed materials can be accepted at Riverview Town Hall:
Jim DeWolfe Community Spirit Awards
c/o Town of Riverview
30 Honour House Court
Riverview, NB E1B 3Y9
2017 Recipient - Ken Arsenault
Ken is a positive driving force behind many great volunteer initiatives happening in our community and the Southeast New Brunswick region.
As the co-founder of Cache Up NB, a community volunteer organization supporting geocaching challenges, events and workshops around the province. Over the years he has partnered with the Town of Riverview, national parks and local tourism organizations to offer popular geocaching challenges. These events have put Riverview businesses on the geocaching map and highlighted our lesser known parks and trail systems, encouraging people to learn more about Riverview's natural, cultural and historical assets. In 2016 Ken played an important role in a geocaching Mega-Event, which drew more than a thousand people from all over the world to the Greater Moncton Area.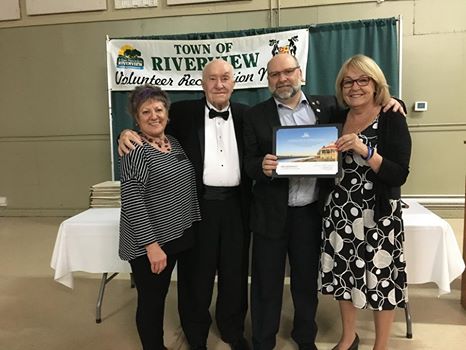 Ken has also been a long standing volunteer for the Fundy Hiking Trails Association. His leadership roles have included promoting the Leave No Trace principle (he is a trainer), coordinating the annual United Way Day of Caring projects, monitoring the 0-2 km section of the Dobson Trail (most difficult trail leader section due to high usage), volunteering his time as the webmaster, serving in a two-year role as Vice President and his current position as President.
Despite enjoying full-time employment as an air traffic control supervisor with Nav Canada, Ken's spare time is devoted to community causes including Neighbourhood Watch Program, the Moncton Masonic Lodge and the Riverview Scouting program. Over the last several summers, he has also taken time to coordinate a Learn to Canoe program for Town of Riverview day camps. This involves borrowing and transporting canoes and teaching 60+ children proper paddling techniques, dumping recovery, and rescues at Lion Ken Gabbey Community Pool.
Ken's enthusiastic volunteerism is helping people of all ages connect to nature and the outdoors. He is welcoming, inclusive and the first to extend a hand when the community needs help.
Past Recipients
Ken Arsenault
Margaret Boushel
Peter Brzezicki
Ann Connolly
Alison Davidson
Jim DeWolfe
David Ford
Ivan and Vivian Hicks
Al Kavanaugh
Brad Lane
Janet Longaphie
Albert McEachern
Kelly MacKinnon
Melody Munro
Tammy Rampersaud
Riverview Lions Club
Edithann Smith
Mike Stone
Jason Surette
Paul Toner
Bernie Touesnard
Charles Webber
William A. West