Jim DeWolfe Community Spirit Award
Nominations for the 2023 Jim DeWolfe Community Spirit Award will be accepted until 4:30 p.m. on Friday, March 17.
Do you know someone who makes a big impact in our community? Nominate them to be recognized!
The Jim DeWolfe Community Spirit Award celebrates a Riverview resident, group, organization or business for their valued contributions to creating and strengthening our vibrant community. Jim DeWolfe Community Spirit Award winners go above and beyond in devoting their time, energy and care to making Riverview an exceptional community.
The award was created in 2013 and named for Jim DeWolfe, an incredible community leader whose contributions and volunteer efforts stretched across many decades. Jim devoted over 60 years to volunteerism, leadership and community growth in countless ways. He offered his time and energy to numerous volunteer organizations including the Canadian Cancer Society, Health Canada, Scouts Canada, Telephone Pioneers of America, the Masonic Order, the Albert County Historical Society, and many other. Jim was also a great lover of the Dobson Trail and spent many years working on making it a source of pride for Riverview. Jim DeWolfe passed away in 2021, at the age of 93 and continues to be remembered and honoured in our community as an inspiring example of how a single person can impact an entire community.
Once per year a special selection committee of Riverview residents, reviews and selects the recipient that best fits the award's criteria.
Who is eligible for the award?
Any current or former long-term resident of Riverview is eligible for nomination. Riverview business owners are also eligible for the award regardless of the business owner's place of residence. Elected representatives are not eligible for nominations while they hold office. Past recipients of the Jim DeWolfe Community Spirit Award are not eligible to receive this award again. 
How do I nominate someone?
To submit a nomination, please answer all questions included in the nomination form. Both written and video nominations will be accepted. You may submit your nomination in any of the following ways:
Complete all fields of the online form. (click "DONE" when you are ready to submit your nomination)
Download the PDF nomination form and submit the completed form to:
Jim DeWolfe Community Spirit Awards
c/o Town of Riverview
30 Honour House Court
Riverview, NB E1B 3Y9
Tips for nominators
Please provide as much information as possible on why you think your nominee deserves to be recognized. Detailed responses will help our committee make the best possible choice.
Additional support materials are welcome, but not required. If you choose to include extra materials, please retain your original copies. Documents will not be returned. Support materials could include:
Photos
Media stories
Testimonials/additional letters of support
Any submitted materials may be shared through the Town's social media accounts and/or other communication channels.
2023 Recipient - Robert Betts
Bob is described as an outstanding volunteer who gives freely of his time. Over the years, there isn't much that Bob hasn't been involved in; from the Riverview Knights of Columbus, to mentorship opportunities with the Robotics Club and Audio Visual Crew when he was a teacher, to facilitating Marriage and Baptismal preparation at the Immaculate Heart of Mary Church, teaching catechism, singing with the Metro Tones, and volunteering with the Riverview Tennis Club – his impact is far-reaching. In his work as the President of the Riverview Pickleball Club (RPC) for the past seven years, Bob has grown the sport immensely in the community. His approach ensures that Pickleball is open to everyone – making it affordable and safe for all. He takes his role seriously and his passion has fueled many opportunities for expansion, including establishing relationships with other community groups and venues, applying for grants, increasing opportunities for players to play, and participating in Town of Riverview events and festivals to raise awareness of the sport. He is always thinking of others and contributes donations from RPC to other community groups such as the Boys and Girls Club and the Albert County Food Bank. During the Covid-19 pandemic, Bob worked tirelessly to advocate for safe play time, upholding and monitoring changing regulations to keep members on the courts, citing the mental and physical health benefits of members as the driving force behind his efforts. As an extremely deserving candidate for recognition, Bob embodies community spirit in all his pursuits. Bob received an outpouring of support in his nomination for this award, with many testimonials, letters of support from members and community leaders, as well as kind words from those he regularly sees through his work with the Riverview Pickleball Club. His Riverview-focused impact and the high level of energy, spirit and enthusiasm his peers described in him as a volunteer and community member was unmatched. It is for these reasons that we are proud to present Robert Betts with the 2023 Jim DeWolfe Community Spirit Award. 
"What a leader, and what a communicator! He thinks of everything, never leaves us in the lurch, reminds us when we need reminding or clarification, shows up for everything, and is ever-watchful for new programs, grants or incentives to improve the pickleball organization in Riverview. " - Alice Harrison, Riverview Pickleball Club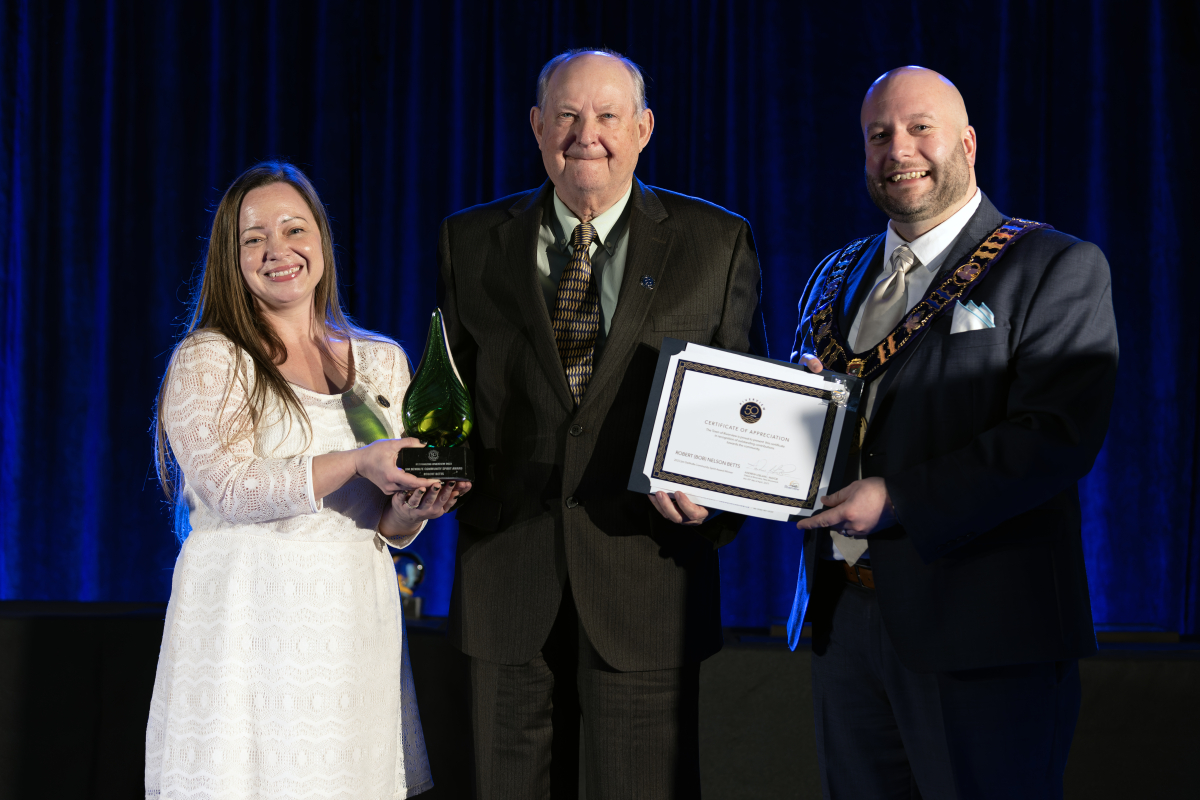 From left to right: committee chair, Melannie Eldridge stands beside 2023 receipient, Robert Betts and Mayor Andrew J. LeBlanc.
Past Recipients
Linda Grimm
David Owen
Ken Arsenault
Margaret Boushel
Peter Brzezicki
Ann Connolly
Alison Davidson
Jim DeWolfe
David Ford
Ivan and Vivian Hicks
Al Kavanaugh
Brad Lane
Janet Longaphie
Albert McEachern
Kelly MacKinnon
Melody Munro
Tammy Rampersaud
Riverview Lions Club
Edithann Smith
Mike Stone
Jason Surette
Paul Toner
Bernie Touesnard
Charles Webber
William A. West