Mayor's Office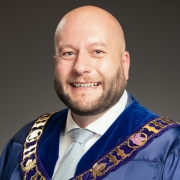 Andrew J. LeBlanc is currently serving his first term as Mayor of Riverview. 
His worship is the head of the Town Council and along with seven Council members sets various policy directions for the Town administration to implement. 
The Mayor acts as the liaison between the CAO and Council and works closely with staff to promote Riverview as a Great Place to Grow. 
Former Mayors: 
Ann Seamans - 2012 - 2021
Clarence Sweetland - 2004 - 2012
Bruce Fitch - 1998 - 2004
Dean G. Johnston  - 1992 - 1995
W. David Richardson - 1986 - 1992, 1995 - 1998
David M. Cudmore - 1983 - 1986
Ralph E. Caseley - 1977 - 1983
Harold B. Findlay - August 1973 - 1977