YOUth Drop-In
       
The Riverview P&R YOUth Drop in Program provides Riverview youth with a safe and engaging space to be active and meet new people! Guests must be between the ages of 12-17. Everyone has a chance to shape the events and activities that happen at the centre. This is a space shaped by YOUth, and for YOUth!
Joining any YOUth Drop in activity is easy and requires no registration.  Simply show up on any Wednesday or Saturday activity with these pieces of information:
Name and valid ID (student ID works)
Emergency contact information
Hours of operation: NEW extended hours!
Wednesdays
3:30 - 6:00 p.m. (ages 12-14)
7:00 - 9:30 p.m. (all ages)
Saturdays:
4:00 - 6:00 p.m. (All ages)
7:00 - 10:00 p.m.(All ages)
These upcoming events require registration:
* November 23rd, 7:00-9:00 p.m. - Acoustic Jam Night 
Bring your acoustic instrument and jam with other youth musicians in the community. 
* November 26th (7:00-9:00 p.m) - Table Tennis Tournament during Saturday Evening Drop in. Ages 12-17
* November 30th (7:00-8:30 p.m.)  - Ornament Making with Riverview Youth Collective (small star ornament to be painted on) SIGN UP
Follow the Youth Collective's step by step process of making your own paper stars. A skill you can learn and pass on to your friends!
RIVERVIEW INDOOR SKATEPARK AND YOUTH CENTRE
The Youth Centre and indoor skate park are also both inside the Riverview Community Hall (145A Lakeside Drive) and feature
Free Wifi
Comfortable Board game lounge
Free arcade Games
Air Hockey, Pool, Foosball tables
Gaming consoles and Projection Screen
Chalk Wall
Cash Canteen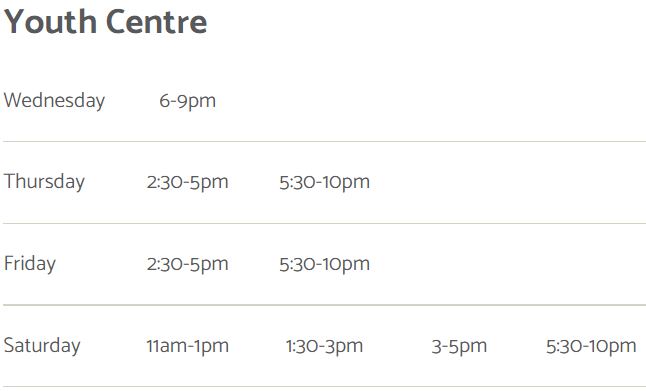 Dont forget! If you aren't interested in any of the activities planned for the day, feel free to stop in and just hang out or check out next door at the Riverview Indoor Skatepark and Youth Centre!
​