YOUth Drop-In
       
The Riverview P&R YOUth Drop in Program provides Riverview youth with a safe and engaging space to be active and meet new people! Guests must be between the ages of 12-17. Everyone has a chance to shape the events and activities that happen at the centre. This is a space shaped by YOUth, and for YOUth!
Joining any YOUth Drop in activity is easy and requires no registration.  Simply show up on any Wednesday or Saturday activity with these pieces of information:
Name and valid ID (student ID works)
Emergency contact information
SCHEDULE
YOUth Drop in Program has concluded for the season! Please stay tuned for news on openings this summer throughout July and August!
Please check out the Riverview Indoor Skatepark and Youth Centre for youth activities and events.
Hours of Operation 
Wednesdays:
3:30 - 6:00 p.m. (ages 12-17)
7:00 - 9:30 p.m. (ages 12-17)
Saturdays:
4:00 - 6:00 p.m. (ages 12-17)
7:00 - 10:00 p.m.(ages 12-17)
RIVERVIEW INDOOR SKATEPARK AND YOUTH CENTRE
The Youth Centre and indoor skate park are also both inside the Riverview Community Hall (145A Lakeside Drive) and feature
Free Wifi
Comfortable Board game lounge
Free arcade Games
Air Hockey, Pool, Foosball tables
Gaming consoles and Projection Screen
Chalk Wall
Cash Canteen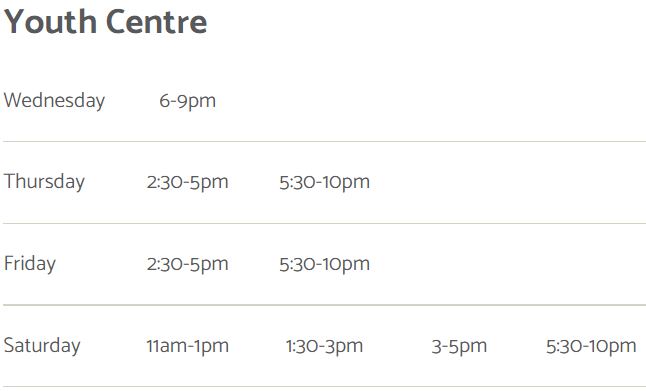 ​